Knorr Masala Mix Free Sample – [8 Flavors Available]
Knorr Masala Mix Sample: Unilever Food Solutions
Hello Dealsnloot Readers! Are you ready to take your culinary creations to the next level? Well, I've got some exciting news for you. Knorr, one of the leading names in the food industry, is offering a fantastic opportunity for Master Chefs and Restaurants in India. Let's dive right in! You can Request a Knorr Masala Mix which is available in different 8 Flavors and for 8 Products. You can order one Masala Mix Sample for Free. This offer is only available for Master Chef and Restaurants Only.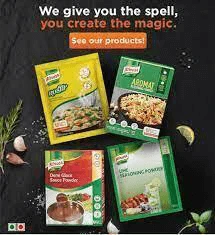 What's On Offer?
Exclusive Flavors
Knorr has come up with an exciting range of Masala Mix samples that are bound to make your dishes even more delicious:
Knorr Indian Aromat Masala
Knorr Smoky Tandoori Marinade Mix
Knorr Malai Tikka Marinda Mix
Knorr Rostip Seasoning Powder
Knorr Demi Glace Sauce Powder
Knorr Aromat Seasoning Powder
Knorr Onion Tomato Base Gravy
Knorr Tomato Makhani Gravy Base
All these flavors? Yes, you read it right!
Eligibility
Before you jump with joy, there's a tiny detail you should know. This free sample offer is exclusively for Master Chefs and Restaurants. So, if you're one, continue reading.
How to get Free Knorr Masala Sample?
Begin by visiting the UFC Official Sample Webpage from the given link:

Once there, scroll down until you find the sample options.
Pick your desired sample product.
Look for the 'Free Demo and Sample' button and click on it.
You can then peruse through some mouth-watering recipes and select a 100g Packet.
Again, tap on the 'Click Free Demo and Sample' option.
A popup will appear. Fill in all the necessary details.
Provide your full name, email address, mobile number, and select your city.
Then, enter your business details, including your business name.
Don't forget to provide a complete shipping or delivery address.
Confirm that you're over 18 years of age and accept the terms & conditions.
Finally, submit your details, and voila! Your free sample order is placed.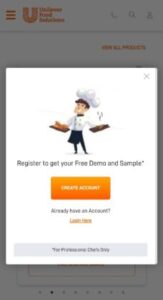 Delivery Timeline
Expect your aromatic UFC Masala Mix Sample Products to reach you within 1 – 2 weeks. A little patience for such flavorsome rewards!
The Benefit of Sampling
Experiment Before Committing
Sampling allows you to try before you buy. Think of it like test-driving a car before making a purchase. Why invest in a full-size product when you can test it first?
Ideal for Master Chefs and Restaurants
If you're a Master Chef or run a restaurant, you understand the significance of flavor in your dishes. With Knorr's free samples, you get to experiment and choose what best complements your culinary style.
Why Choose Knorr?
Reputation and Quality
Knorr is not just a name; it's a brand synonymous with quality. For years, they've been enhancing the flavors of dishes worldwide. Can you think of a better partner for your kitchen?
Range of Flavors
From the traditional Indian Aromat Masala to the tangy Tomato Makhani Gravy Base, Knorr offers a plethora of flavors to satisfy every palate. Isn't variety the spice of life?
Tips and Tricks
Maximizing Your Free Sample Experience
Always read the accompanying recipes that come with the sample. Sometimes, a unique approach or an unexpected ingredient can make all the difference.
Conclusion
Seizing this opportunity from Knorr not only introduces you to some delightful flavors but also allows you to broaden your culinary horizons. Remember, great food is not just about cooking; it's about flavors, and who better than Knorr to guide you in this journey?
FAQs
How many samples can I order?

You can order one sample product.

Is this offer available outside of India?

No, this offer is exclusive to India.

I'm not a Master Chef or don't own a restaurant. Can I still get a sample?

Unfortunately, this offer is specifically for Master Chefs and Restaurants.

How long will it take to receive my sample?

The sample will be delivered within 1 – 2 weeks.

Is there a cost involved in ordering the sample?

No, it's absolutely free!
Unlock Exclusive Online Shopping Discounts & Amazing Earning Opportunities!  Join Our WhatsApp Community Now – Tap Here
Join Our Telegram Channel For Instant Loot Alerts – Click Here
Knorr Free Sample Products From Unilever Food Solutions